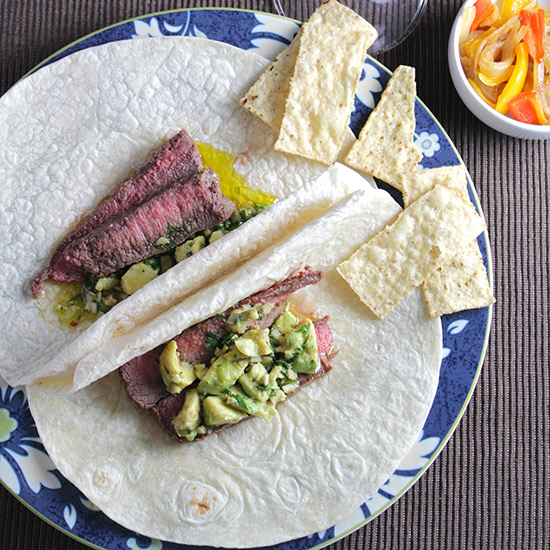 Grilled steak tacos are a great dish for a crowd during the summer! Topped with Awesome Avocado Chimichurri Sauce, this is sure to please guests who like big flavor. Chimichurri sauce has its roots in Argentina; avocados are enjoyed throughout Latin America.
Note: Based on a recipe originally published on Cooking Chat, photo and recipe republished here with permission.
Ingredients
1 ½ lbs steak — ribeye is a nice choice!
1 tsp cumin
1 tsp garlic powder
1 tsp salt
1 tbsp olive oil
1½ sweet onions, sliced thin
2 different colored bell peppers, coarsely chopped
2 packs soft taco shells
Awesome Avocado Chimichurri Sauce
sour cream
lettuce or other salad greens
refried beans
Instructions
Make the steak rub by combining the cumin, garlic powder and salt in a bowl. Preheat a grill to medium high.
Pat the steak dry, then sprinkle half the rub over one side of the steak, then gently rub it in. Turn the steak over, and repeat with the remaining half of the steak. Set aside for a good 15 minutes at room temperature to let the flavors absorb as you prepare the onion/pepper mixture.
Heat the tablespoon of olive oil in a large skillet on medium heat. Stir in the onions and bell peppers. Cook about 10 minutes until they are softened and start to brown, stir occasionally. Lower the heat, and keep warm as you cook the steak.
Put the steak on the grill. Grill for 7 minutes on one side, then flip to grill another 7 to 8 minutes for medium-rare steak.
Let the steak rest on a platter for a few minutes minutes. Next, slice the steak thinly for the tacos. This is a good time to finish the avocado sauce, then set the finished sauce by the steak platter.
Set the taco shells, beans, onions and sour cream alongside the steak and sauce and invite people to build their own Awesome Avocado Steak Tacos!