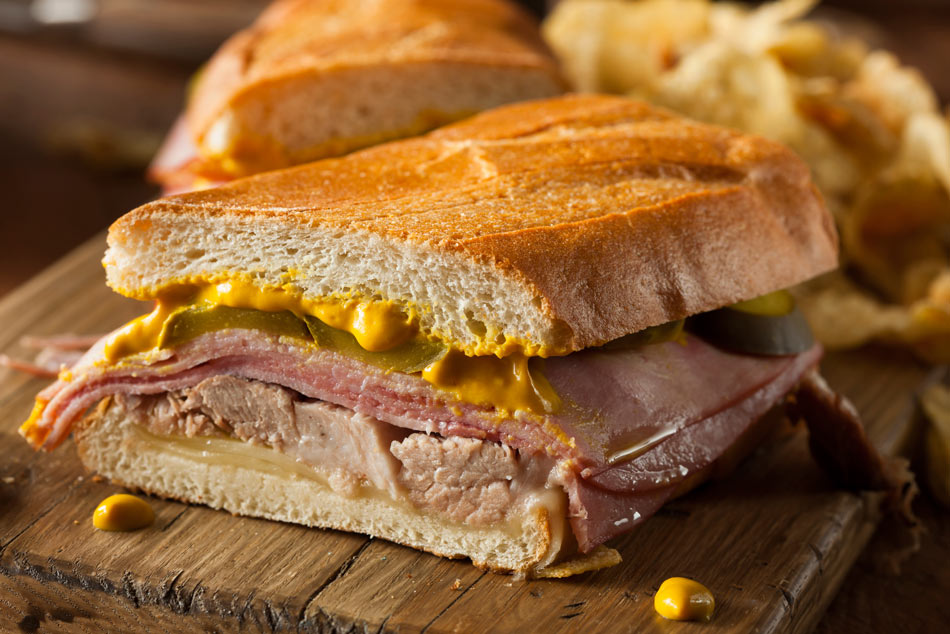 Rumored to have originated in Cuba or Key West, the Cuban sandwich migrated to Tampa, Florida, and eventually to Miami, growing in popularity along the way. It's traditionally made with Cuban bread, but Italian or ciabatta bread is an easy-to-find substitute. Ham, roasted pork loin, Swiss cheese, pickles, and yellow mustard are the nonnegotiable layers in a proper Cuban sandwich, but mayo and salami are also common additions, or even mortadella. For ease of preparation, the assembled loaf is cut in half here, each piece is wrapped in foil, and a heavy pot or pan is placed on top to compress the sandwich while it's toasting. It is much easier with a grill.
INGREDIENTS.
• 1 loaf Cuban bread
• 1 ounce regular mustard
• 4 dill pickles
• 5 slices boiled ham or Virginia ham
• 2 slices roast pork
• 1 slice imported Swiss cheese
• 1 ounce butter
PREPARATION.
Cut Cuban bread to desired size, common size is 7 inches. Next, slice open the bread down the middle. On the topside of the bread spread 1-ounce of mustard, evenly across. Then place 4 pickles on top of the mustard. You then place 1 slice of Swiss cheese on top of the pickles. Slice ham to desired thickness, recommended size is 1 1/2 ounces per slice, the thinner the better. Now fold each slice of ham in half and place evenly on bottom of bread. On top of the ham, place slices of roast pork, 1 1/2 ounces per slice. You then join both halves of the sandwich. You are now ready to grill your Cuban sandwich.
Use a sandwich grill if you have one, a waffle iron if not. Spread butter on top of the bread evenly. Close the grill, smashing the sandwich. Leave sandwich in the grill until top of bread turns to a golden brown, and top is crisp. Approximate time is 4 to 6 minutes. After the sandwich is crispy and the cheese has melted, remove the sandwich carefully and slice it diagonally, from corner to corner. DO NOT USE A MICROWAVE OVEN!
NOTE: Cuban bread is hard to find outside Miami. Other good alternatives are French or Italian bread, ciabatta, or sub roll.